Connect with an Accurate Psychic in NZ -Franziska
What is Your Background and Training as a Psychic Reader?
How did You Start Your Spiritual and Psychic development?
How do You Know you are an Accurate Psychic in NZ?
Which Psychic Abilities do You Have?

Allowing my Clairvoyance  to come to the Surface

The Spiritual Journey Continues

Do You accept Questions during a Psychic Reading?
Address and Hours :
6, Johnsonville Road , Johnsonville , Wellington 6037
Monday 8 am–7 pm
Tuesday 8 am–7 pm
Wednesday 8 am–7 pm
Thursday 8 am–8 pm
Friday 9 am–7 pm
Saturday 8 am–7 pm
Sunday 8 am–7 pm
How to connect with Franziska
As a full time and accurate psychic in NZ,  I am based in Wellington, New Zealand and work there, but also tour to other centers. I love to travel in our beautiful country so I am away a lot but this also allows me to catch up with my regular clients all over New Zealand for psychic readings and coaching sessions. .Spirituality is as natural as breathing to me and I love empowering others to develop their gifts. As of writing this I am 55 years old and can relate to a lot of peoples life situations as well.
I have worked as a Psychic and healer for over 30 years and travel and tour a great deal to make it easy to connect with my clients. The online technology has also made this easier for me.
Vetted and approved by best Psychic Directory as an Accurate Psychic Clairvoyant
I do see some scams online and some truly claim extraordinary things. Like making Your ex come back. This is impossible as you ex has free will and can make the situation worse as they will feel that energy and can pull away more. These sort of claims are untrue and also energy manipulation which I have seen back fire on people who have gone for them. To connect with an accurate psychic in NZ or overseas look at how long they have been a Psychic for, their reviews and whether their claims seem to infringe on another's rights
To find the perfect Accurate Psychic in NZ make sure you read their reviews
Most of all trust Your own intuition and pick someone You feel drawn to when trying to find the right Psychic for You
What is Your Background and Training as a Psychic Reader?
Spiritual Counselling.
Holistic Life Coaching.
Shamanic Journeying and Soul Retrieval.
Energy Healing and chakra balancing.
Psycho-synthesis.
Guided Meditation training.
Intuitive and Psychic Training.
Sound Healing, Relationship Healing.
There was also the great experience of training  in energy healing with Colin Lambert. Here is a link to his work as he has passed on now:  http://magnetichealers.org.nz/ .  He was an amazing person and still full of energy when I met him in his 70s.
I always felt peoples feelings and energies and found that hard as a child. It was later, in my twenties,  that I embraced what could not be avoided. My true nature and soul expression.
I am a pretty grounded and practical person and love nature and also learning new skills all the time. When I am not working as a psychic I love photography and making videos for my You Tube Channel.
I also work online while touring as today's technology makes this very easy for me now.
My life has been centered around working as a healer and psychic as well as meditation teacher and Soul Coach for 29 years. My work is my full time occupation. I try not to connect into the astral realm but to go into the higher purer realms as there is less earthbound vibration there.
How did You Start Your Spiritual and Psychic development?
Life started for me with spiritual parents and was encouraged to develop my spiritual gifts from a young age.
Loving what I do and enjoying seeing people smile when they leave, feeling peaceful and clear gives me great satisfaction.
My life has been about actively working as a healer and psychic for 30 years and would not change this life for anything.
After travelling halfway around the world to live in new Zealand with my family when I was 11. I ended up exactly where I needed to be for my own growth and awakening.
My  two sons are now grown and I had a market garden while they were children. Which was a wonderful lifestyle at that point as i was at home all the time. As you can see below my studies and training have been extensive.
How do You Know you are an Accurate Psychic in NZ?
By years of experience as well as all the feedback I have had. I travelled New Zealand almost full time for 14 Years and had excellent feedback. To say I am an Accurate Psychic in NZ is simply stating that I take pride in my accuracy and also I am prepared to admit when I am wrong. This allows me to to continue to grow and get clearer all the time. Please see this page to see how I tour as an accurate psychic in NZ
Which Psychic Abilities do You Have?
Clairvoyance, clairaudience, clairsentience, intuition, claircogniance are all a part of my readings. of course not all at the same time and sometimes one comes through stronger than another ability.
Here is an article I have linked to explain these a bit more if you are curious: List of Psychic Abilities.
I also saw energies and a lot of spirit animals which I loved and  played with as a child. Nature is where my soul  likes to be to re charge.
My father sent me a couple for a reading when I was 17 which scared me at the time and lead me to avoid my spiritual path for a while as a teenager.
Allowing my Clairvoyance to come to the Surface
I experienced an intense growth time while living in the Marlborough sounds. Receiving Spiritual messages and guidance with a lot of clairvoyant and visual experiences. Which taught me about reading energies and seeing some pretty amazing things.
There were quite strong paranormal energies there and some potent energy centers or vortexes. This really advanced my metaphysical growth and taught me some new techniques.
And it was not just me. I had friends come and stay who experienced some of these too.
The Spiritual Journey Continues
After that I drawn to healing and worked at a healing center I started with a friend in Motueka. Mostly as as an energy healer and Intuitive and I received messages during my healing's for people. I also saw energy blockages where there were shadows rather than clear colours.
Dynamic Life and Soul coaching is something I love to do to empower and help people find their passion and strength of purpose and direction. This is something I want to do more in the future.
Once I started travelling my more singularly focused time as a Psychic started, which brings me great joy and satisfaction and connects me to many people all around the world now. yes I am an Accurate Psychic in NZ but my clientele is international thanks to technology
Every day we learn more and so do I . I continue to learn and grow and develop my gifts to be an Accurate Psychic and give people clarity on their journey .
 Do You accept Questions during a Psychic Reading?
Yes I do my online readings allow for five or six questions and in person and phone readings are a dialogue so ask what you would like to know. For online readings please send your questions and a photo as well as your date of birth as I use this to look at a timeline and so I can time events
Read about the different readings I offer on my Psychic Readings page .There are different readings for different situations and I am also happy to focus on a subject you suggest.
Go to my psychic readings page for details; Psychic Readings 
My lifepath readings are very popular and give a deep spiritual insight into your life Lifepath Readings
For bookings please visit my Booking a Psychic Reading Page
Or for Bookings Go to My Contact Me Page
Have had 2 readings from Fran so far and both spot on. Highly recommended if you are looking for some guidance. Thanks so very much Fran <3
I had a wonderful reading with Franziska in person .She really helped me and answered my questions very well
She is friendly and professional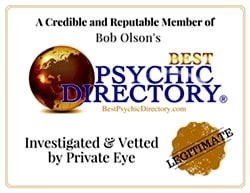 Approved by Best Psychic Directory as an Accurate Psychic in NZ and Worldwide
Bob Olson investigates and checks on the credibility of Psychics before listing their website .
Franziska is Wellington, New Zealand based Psychic and Clairvoyant with an International Clientele and 30 years experience. Her Psychic readings are available via email, phone or in person and she is considered an Accurate Psychic in NZ and Internationally
She can help you gain clarity by connecting to her intuition and spirit to give you answers, guidance and peace of mind. Questions are welcome